Welcome to Austrian Chauffeur Limousines
Is travel in style and comfort still possible in this day and age? Yes it is. Austrian Chauffeur Limousines, Europe's leading and exclusive chauffeur-driven car company, is experienced in providing first class transportation for those who prefer saving their energy for more important matters.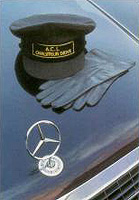 Our cars are of the highest quality and are maintained in peak condition. Our chauffeurs are selected according to their personality, knowledge, driving skills and appearance. We provide Chauffeured Limousine Service for sightseeing tours in many different languages, for business travel, limousine convoys for official appearances, airport and rail transfers and short (hourly) rentals and for trips of all kinds within Austria and Europe.

Our chauffeurs are available in English, French, Italian, Spanish, Portuguese and Arabic.

Run by Family Tiller, Chauffeur Limousines has been in business since 1968 and has already been passed on to the second generation. The company goal has, however, always remained the same: safe and comfortable transportation for all customers. In order to maintain this goal it is necessary to be on top of all technical advances and therefore it has always been of the utmost importance that the vehicles are replaced after two to three years. Your Limousine is waiting for you.